Trusted Spruce Grove Mortgage Broker
20 Minute Mortgage Pre-Approvals – Call Now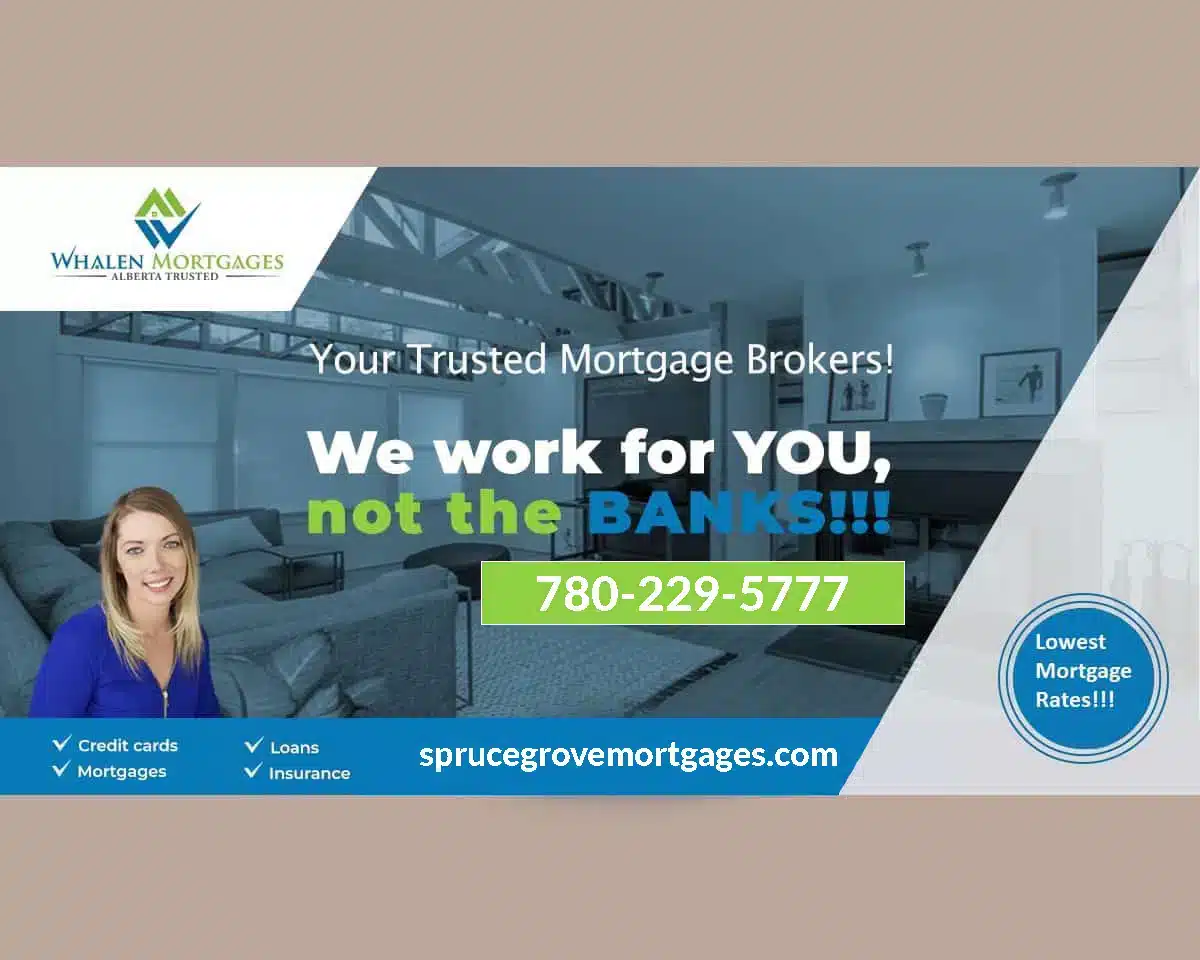 Spruce Grove First Time Home Buyers
First Time Home Buyers: Let Whalen Mortgages Spruce Grove get you started right with a fast approval, low mortgage rate and a smooth first time home buying experience. There is a difference when you work with trusted and experienced mortgage specialists. Give us a call today at 780-229-5777.
At Whalen Mortgages Spruce Grove, we work for you and not the bank and our only goal is to assist our clients in finding the perfect solution for their mortgage situation. Being new to the home buying market you need an experienced mortgage broker on your side, to know what the right mortgage is and with years of mortgages under our belt we can help you avoid common issues that hold people back.  We know how to mitigate any risks and avoid potential problems before they happen. We are on your side to get your new Spruce Grove mortgage approved. We are here be your top Mortgage brokers in Spruce Grove.
Did you know that we can offer for those who qualify, no and low down products that can allow you to buy a new home with little or no money down. In some cases you can buy a Spruce Grove home with one hundred percent financing. We have lenders with programs available offering you the ability to borrow the down payment or obtain a loan or unsecured line of credit. We can keep mortgage rates competitive even when you have a small down payment. At Whalen Mortgages Spruce Grove, our only concern is helping you become homeowners!.Give us a call today at 780-229-5777.
Whalen Mortgages Spruce Grove are mortgage brokers. This is different from being a lender. We're the top mortgage brokers in Spruce Grove and have locations all across Alberta, and have a trusted reputation for helping our clients with all kinds of mortgage solutions in Spruce Grove. Our ability choose from a wide range of lenders helps us find the best loans for you. We're available to help with your Spruce Grove mortgages and can be reached even weekends and evenings. Spruce Grove home buyers are looking for homes when it is convenient for them. We are ready to help you at times that are convenient for you. Call us today. 780-229-5777.
Mortgage Renewal Spruce Grove
Is it time for your Spruce Grove mortgage to be up for renewal? Did you know that you can shop around for a new mortgage for your Spruce Grove home. You have nothing to lose. This is the perfect time to avoid simply signing up with the banks first offer and explore if you can save money. In many cases you can save money, shorten the term of your loan or avoid having a prepayment penalty on your home altogether. While many Spruce Grove mortgage renewal customers do end up signing with current lender on whatever the lender offers them, there is no cost to exploring their options. Give us a call today at Whalen Mortgages Spruce Grove! We'll get you the best mortgage rate and loan terms available on your Spruce Grove mortgage renewal 780-229-5777.
Spruce Grove Mortgage Refinance
Refinance your current, Spruce Grove mortgage the right way.  Are you wanting to remodel your Spruce Grove home or pay off other debts. Maybe you want to pull out some of your equity for other projects. Or maybe you are wanting to consolidate your home equity line of credit or second mortgage into a single mortgage potentially saving money in interest. We are here to help and you can use the money any way you choose. It is up to you! Investing in real estate, buying a vacation home or whatever you would like. Call Whalen Mortgages Spruce Grove to find out about all of your options before you decide on a Spruce Grove debt consolidation loan. 
We care and can provide you with creating Spruce Grove mortgage refinance solutions. Are you looking to get away from a bad home loan? At Whalen Mortgages Spruce Grove we understand and are here to provide you with the best mortgage refinance solution possible.
Whalen Mortgages Spruce Grove offers preferred Spruce Grove mortgages from these lenders and more.
We offer mortgages and rates from these Spruce Grove lenders and more!



Welcome to Whalen Mortgages Spruce Grove, the top Spruce Grove, Stony Plain, Parkland County mortgage brokers. We're the Spruce Grove area mortgage brokers trusted to say yes when the banks say no. Remember we work for you not the banks!
"Are you facing challenges with bad credit when it comes to getting a mortgage? Don't worry, Whalen Mortgages Spruce Grove can help you find a lender who can offer different products and qualifying rules. We can find you a competitive interest rate for a mortgage purchase or refinance that is better than what the big banks are offering.
If you own a company or have an income from non-traditional sources, some lenders may be reluctant to work with you. But with us, you'll find lenders who are happy to have you as a client. We can even help if lenders are holding a period of unemployment against you.
Buying a home vs renting in Spruce Grove and Stony Plain can also benefit you in the long run. By paying 1250 dollars monthly on a 300,000 dollar home, you'll not only pay down your mortgage balance, but also build equity that can be used in the future. In fact, you may even be able to afford to buy a home for what you're currently paying in rent. Let us help make your dream of home ownership a reality by offering you the lowest mortgage rates available in Spruce Grove.
We won't charge you extra fees to make up for our low interest rates. For example, we won't charge you an extra 15,000 dollars if you decide to break your mortgage early. We want to place you with an honest lender who doesn't have inflated penalties.
We can also assist you if you have a variable rate mortgage, which comes with the risk of a price hike. We can help you transition to a low cost fixed rate mortgage or offer hybrid mortgage products that let you pay a low rate while reducing uncertainty. We take the time to educate you about the mortgage products, so you can make an informed decision. 
At Whalen Mortgages Spruce Grove, it is our goal to provide our clients with the absolute best service possible.  
The Spruce Grove Mortgage Pre-Approval
A pre-approval is the first step to getting a mortgage for a potential home buyer in Spruce Grove, Stony Plain, Parkland and surrounding area. This does not mean the mortgage is guaranteed as the property also comes into play, but it does show that the lender has promised to lend you a certain amount at a set interest rate. It is always recommended to have a financing condition on your offer to purchase on a home. Having a pre-approval has many benefits. You will know how much house you can afford and won't miss out on any properties because you were denied for a loan. It also shows home sellers and real estate agents that you are serious about buying a home. Finally, having a pre-approval can speed up the closing process because you have already started the mortgage approval process.
Why Should You Work with a Spruce Grove Mortgage Broker?
Working with a Spruce Grove mortgage broker like Whalen Mortgages Spruce Grove has many benefits. First, we know the Spruce Grove, Stony Plain, Parkland County and surrounding area housing market and the lenders who understand it. Second, we are familiar with some employer provincial housing programs that some employers in oilfield offer. Third, we understand how things like bonuses, overtime, and driving allowances can affect your income statement when getting a mortgage.
At Whalen Mortgages Spruce Grove, we make sure to gather all the right documents and submit them to the right lenders to make the home buying process go smoothly. We will help you get qualified for the home you want in Spruce Grove or the surrounding area, including rural properties. We can even help with mortgages for people all over Canada.
In addition to providing mortgages, Whalen Mortgages Spruce Grove has a network of professionals who can help with other parts of the home buying process, like connecting you with real estate agents, home appraisers, inspectors, and renovators. So, call us at 780-229-5777 before you start shopping for a new home or before you make an offer on one. Let us help you achieve your dream of home ownership.
Do We Work with Lenders that Support Housing Programs and Housing Incentives?
Yes! Of course! The team at Whalen Mortgages Spruce Grove is knowledgeable about the various programs offered by employers in Alberta. They understand that many employers offer things like mortgage subsidies, down payments, and living allowances to encourage their employees to live in the area.
The mortgage process can be complicated because of the different types of income that Spruce Grove and surrounding area employers provide, such as performance bonuses, shift differentials, overtime pay, and driving allowances. This is especially true for those working in the oil industry. Some mortgage lenders in Spruce Grove may reject an application because they believe the bonuses and incentives artificially increase the stated income.
Thanks to their local knowledge, Whalen Mortgages Spruce Grove has the highest pre-approval rate of any mortgage broker in Spruce Grove, Stony Plain, Parkland County and surrounding areas. They can help guide you through the mortgage process and ensure that your application is approved
Can I Get a Mortgage with 0% Down?
Basically, buying a house without putting down any money is not usually allowed. But, there are some mortgage lenders who might approve you for it. For example, you can get a separate loan or an unsecured loan to cover the down payment. Your family members could also give you the money as a gift. And in some cases, your employer may even provide the down payment. However, there are certain rules and restrictions that apply.
What Options Are Available to First Time Home Buyers?
First-time homebuyers in Spruce Grove have extra options to consider. For instance, you can use money from your RRSP account as a down payment on a home, tax-free. You just need to talk to your RRSP investment provider to find out how to do this.
If you've used this RRSP benefit before, you might be able to use it again. For example, if you bought a home in Calgary using your RRSP and then sold it and moved to Spruce Grove, you could use the RRSP funds again if you've rented for at least three years and repaid the RRSP. And, if you haven't owned a home in the past three years, the RRSP benefit won't be taxed.
Additionally, the government has a restricted shared equity program where if you have a 5% down payment, they'll match it, or 10% for a new build as part of a shared equity home ownership program. To see if you qualify, you'll need to contact the government directly.
If you're interested in learning more about your options as a first-time homebuyer in Spruce Grove, consider reaching out to a mortgage broker like Whalen Mortgages Spruce Grove for guidance.
How Much Does a Down Payment Need to Be on a Second Home?
If the property will become a primary residence for another family member or yourself, the down payment needs to be at least 5%. Talk to our team to better understand the rules and restrictions involved.
What Options Do I Have If I want to Make My Current Home A Rental Unit?
Suppose you want to move out of a starter home and into a larger property. Or you're ready to leave Spruce Grove but want to rent the property out. Whalen Mortgages Spruce Grove can help you tap the equity to put a down payment down on your new home, while the rental income will pay the mortgage on the property. We can use a rental calculation with a lease or market rent to wash away most debt on your existing home allowing you to free up the amount you can spend on a new home. 780-229-5777.
You can refinance the mortgage to lower the monthly payments and increase the revenue on the rental. This is true whether the mortgage is coming up for renewal or you're in an adjustable rate mortgage.
This is not my first home, how much down payment will I need?
Typically you only need 5% down payment, provided it is your primary residence regardless if it is not your first home purchase. 5% Down payment is for your primary home or a family members home to qualify.   If you have over a million in total mortgages or the whole application weaker due to other issuues, they may want 10% down payment to help mitigate risk, but our highly skilled Mortgage Brokers in Spruce Grove are happy to assist you in finding the right Spruce Grove mortgage solution for you. Give us a call!
What are my options if I have a house and want to turn it into a rental?
If you're buying a new home in Spruce Grove or elsewhere as a primary residence and want to rent out the old property, you can do so with as little as five percent down on the new property. Our rental offset options allow you to wash away the debt of the old home and mortgage to free up your debt load when buying a new home. We are your first choice for your trusted Spruce Grove Mortgage Brokers!
What Do I Need to Know Before Buying Rental Real Estate?
If you're looking to buy a rental home, mortgage lenders usually ask for a down payment of 20%. The government requires you to have mortgage insurance for homes with less that 20% down, but the property cannot be insured.  And, the government only finances the purchase of a first or second home, not investment properties. To help you with financing your real estate purchase, contact a Spruce Grove mortgage broker like Whalen Mortgages Spruce Grove.
What Are the Mortgage Rules on Second Homes?
You can buy a second home or vacation home for as little as 10% down payment. Moving into your second home or a vacation home? You can reduce that to 5%. If a family member moves into the property, you can pay as little as 5% down payment, as well.
Why Should I Use a Spruce Grove Mortgage Broker?
Why use Whalen Mortgages Spruce Grove for your mortgage needs instead of going to a bank? There are a couple of reasons that we can provide a better solution for our Spruce Grove mortgage clients. First, we work for you, not the bank, providing a higher level of customer service. We are available to answer questions and won't pressure you into a loan that may not be the best fit for you. Secondly, we have access to a large network of lenders and banks, allowing us to find better mortgage loan terms and options, including those for clients with poor credit or unique property purchases. We strive to find the best loan product for our clients, which ensures that we stay in business. 
We can even help those outside of Spruce Grove, anywhere in Canada. Use our free mortgage calculator to see how much you could save. Let us help you save money on your current home or afford the home of your dreams. Contact us today at 780-229-5777.
Can we save you money on your Spruce Grove mortgage? Give us a call today at Spruce Grove Mortgage Brokers and find out!
Are you buying a home in Grande Prairie, Red Deer, Lethbridge or Fort McMurray? We have a team of mortgage brokers in Grande Prairie click here to see your options and a team of mortgage brokers in Fort McMurray, click here to see your options. Our mortgage brokers are local to the area and can get you the lowest mortgage rates. If your buying in Red deer click here. Lethbridge purchase click here. Medicine Hat purchase click here. If you are looking for a home inspector in Spruce Grove area we highly recommend Xplortek. Are you looking for a REALTOR in Spruce Grove? We recommend Carson Beier for Spruce Grove Real Estate.
Amazing service with the lowest rates mortgage rates in Spruce Grove!! We felt valued and taken care of while purchasing our new home!
Melanie Funk
Whalen Mortgages Spruce Grove beat my banks rate, had as approved within 4 hours and answered all of our questions anytime we had them in a highly urgent manner. I would recommend them for your next mortgage. I will be using them going forward for all my mortgage requirements and recommending friends and family to call them.
Ziad Mustafa
We used Whalen Mortgages Spruce Grove for our mortgage renewal and they had the best rates possible. They have top notch service and the rates no other lender or bank could match. They helped make the renewal process easy for our mortgage and we can not say enough about how amazing they are at communication with their clients.
Cindy Mcallister